I had the time of my life in HOUSTON, TEXAS. I was an au-pair in the best family you can imagine. We clicked and they let me in their hearts and let me love their children – and I did. It was in 1991 and 1992 – I was young and I was in need of change and they gave me just that. I changed. I got bolder and I found out that I was good with children and good at feeling love towards people who I didn't share blood with. I loved them with all of my heart – in all of the cells in my body – they where my family.
Today they came to my house – my american mom and dad – CHRIS & PAT.
The sun was shining and we had a brunch inside and champagne and beer on the patio – in the sun – with lots of talk, laughter and fun. Sun & fun – me and my american family REUNITED.
I had cried all morning of thankfullness and excitement and promised my self not to burst in to tears when I saw them again – and I keept that promise to my self. It's because of the MS – if I have strong emotions it all ways affects the MS negatively. Because the MS is now active (ATTAK) – I knew , from experience, that I had to economice with my energy. Thats also way I didn't shoot many photos – I simply choose to be in the now – and take all of their love and great energy in – in to my heart. And I succeeded.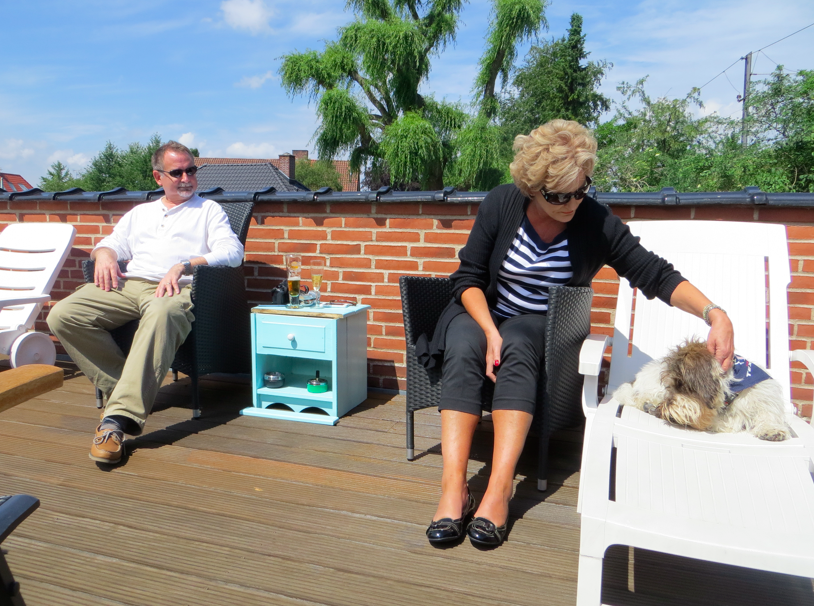 Look at them – Chris & Pat…
They are so amazing. They relaxed and kicked back and ate our food – only danish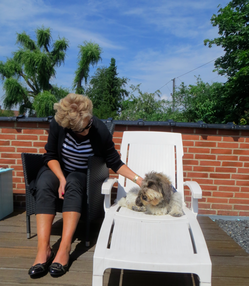 They both thought Fjolle looked really really old and was way too quiet – but hey thats who he is – my sweet dog – and he actually grew on them and they where friends when they left…
Chris had bought me B12 vitamins – the best from the States, a bottle of a great champagne and Pat had gotten both dogs a HoustonTexans football-pet-scharf – AMAZING. We also got the most beautiful juicekaraffel from Norway. I am so grateful and thankful. I have the best american family in the whole Universe.


And then they left my house.
The sun stopped shining and the rain came. There was thunder and rain showers all over Frederiksberg…
If the MS is kind to me and I am kind to the MS and goes to bed now – IT MIGHT BE POSSIBLE for me to see them again tomorrow…
Goodnight my dear family in cyberspace and my family at heart – Chris and Pat.